"One of the best ensembles in The Netherlands" (De Volkskrant), the renowned baroque ensemble La Suave Melodia, performs with dynamic spirit, bringing passion and exhilaration to the music of the Baroque.
Leading international specialists in the Early Music scene, Rachael Beesley (baroque violin), Cassandra Luckhardt (viola da gamba & baroque cello), Regina Albanez (theorbo & baroque guitar) and Pieter Dirksen (harpsichord & organ), combine "virtuosic playing and convincing interpretation" to create an ensemble of "outstanding soloists"(Haagsche Courant).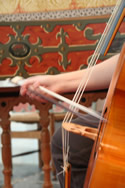 This prize-winning ensemble (Van Wassenaer Concours), has a vast concert experience including the opening of the prestigious Rembrandt-Caravaggio Exhibition at the Van Gogh Museum, Amsterdam. Its performances in important festivals and intimate chamber music series throughout Europe continue to receive enthusiastic reviews:
"a beautiful concert" (de Volkskrant)
"a delicious feast!"(Preludenieuws)
La Suave Melodia demonstrates experience and expertise through unique programs featuring baroque violinists Franc Polman and Sophie Gent and vocal soloists Clint van der Linde and Shauna Beesley. The ensemble's core repertoire includes works by Buxtehude, Bach and Telemann; Rameau, Marais, Rebel and Couperin; Purcell, Dowland, Locke and Lawes as well as Pandolfi Mealli, Schmelzer and Biber.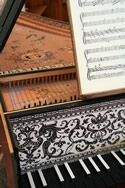 Extensive research and experience combined with an enthusiasm for teaching, coaching and presenting lectures, enables the members of La Suave Melodia to give courses, masterclasses and private lessons at festivals and conservatories around the world including The Netherlands, Sweden, Spain, Brazil and Australia.