Since winning Best Individual Performer at the Van Wassenaer Competition for Early Music in Den Haag, The Netherlands, in 1998, Cassandra Luckhardt has established an international reputation as a soloist, chamber and orchestral musician and teacher on both cello and viola da gamba. In performance, Cassandra has played with the Amsterdam Baroque Orchestra, Le Concert Spirituel and Musica ad Rhenum.
In 2005, she will be the gamba soloist with the King's Consort. As a chamber musician, Cassandra is in equally high demand, demonstrating her flexibility as both a cellist and gambist. She has performed in festivals in Japan , America and throughout Europe . Her recent recording with Musica ad Rhenum of the Suites for viola da gamba as part of the complete chamber music of Francois Couperin has been highly acclaimed as "magnificent and indispensable."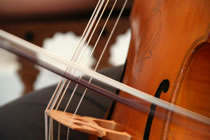 Cassandra received her Bachelor of Music and her Bachelor of Arts degrees cumlaude from Oberlin College, Ohio and her Master of Music degree from the San Francisco Conservatory. She moved to Paris in 1994 to study at the Conservatoire National Superieur de Musique under the auspices of a Harriet Hale Woolley grant, awarded that year to only three other artists in the United States. She has won prizes at the Early Music Competition for Ensembles in Bruges , the Van Wassenaer Concours in Den Haag and at the Utrecht Early Music Festival. In 2001, Cassandra finished her studies at the Royal Conservatory in Den Haag, graduating with degrees on both viola da gamba and baroque cello. Her teachers and major influences have included Bonnie Hampton, Catharina Meints, Kenneth Slowik, Christophe Coin, Jaap ter Linden and Wieland Kuijken.